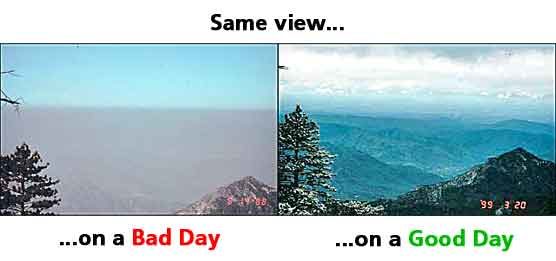 The Air We Breathe
By

in

Posted

June 30, 2017
Ozark Greenways –Let's Go Smart –August 7-14 Blog
The Air We Breathe
In the past week I have traveled by car, airplane, train, bicycle, taxi, bus, subway and on foot. I passed on an opportunity to move by horse, I am not real fond of the way they handle curves. With my eyes set on the horizon and the clear blue sky above I was a bit set back passing thru St. Louis when a large flashing sign on the highway stated the area was in "Air Quality—Yellow ALERT."  I was aware of the meaning of a "Yellow Alert" so I hit the gas pedal and bee lined for Springfield where we don't have such warnings.
Or do we? According to the Ozarks Clean Air Alliance whose mission it is to focus on improving our local air quality, it is of concern because Springfield is on the edge of becoming a non-attainment area when related to ozone and particulate matter. Long story short is we don't want that! Short story and a surprise to me….Springfield has been in the yellow level for the past two days!
How bad is yellow? Well, green level = good, yellow level = moderate, orange level = USG or unhealthy for sensitive groups, red level = unhealthy, purple level = very unhealthy and then we move into hazardous level colors.
According to Springfield air quality guru Brian Adams, our greatest concern and threat to local air quality are the effects from local transportation impacts which we can do something about. But, then there is what's referred to as ozone transport. That is the impact on our local air from distant locations which we would have little control over. This could be industrial air pollution or wild fires as far away as Texas. We can't do much about that.
So, it would appear that for the time being here in Greene County we have skated by without severe warnings and even the yellow rating the past two day was related more to weather conditions.  However, in order to keep our tails out of the color chart we need to work together to keep the air we breathe clean.
The Ozarks Clean Air Alliance now guides the region's education and outreach efforts to reduce the negative effects of air pollution.  Members of the Alliance team work to create opportunities to voluntarily reduce the emissions that cause air pollution. They have a great website with a few transportation tips that support our Let's Go Smart movement that we want to share with you.  We also encourage you to learn more about efforts and how you can help to protect the air quality locally.  www.showmecleanair.com
Ozarks Clean Air Alliance—Transportation Tips
Ridesharing
To register an existing carpool, volunteer to start a new carpool, or sign up to be matched with carpools in the area visit OzarksCommute.com. The OzarksCommute rideshare program serves the counties of Barry, Barton, Cedar, Christian, Dade, Dallas, Douglas, Greene, Jasper, Laclede, Lawrence, Ozark, Polk, Stone, Taney, Webster, and Wright.
10 Simple Steps
Trip chain more often. It's easy! Chances are, you're already doing it — combining your errands into one trip. It helps you get things done and it helps reduce traffic congestion and air pollution. When you first start a car after it's been sitting for more than an hour, it pollutes up to five times more than when the engine's warm.
Take mass transit, share a ride, or car pool. Even if you do it just once or twice a week, you'll reduce traffic congestion and pollution, and save money. The average driver spends about 56 cents per mile including ownership and maintenance.
Have fun! Ride your bike. It's a great way to travel and it can help you and the air get into condition. Vehicles on the road create more than 25% of all air pollution nationwide.
Take things in stride. Walk or ride a bicycle instead of driving. They're easy ways to get exercise and they're easy on the air.
Care for your car. Regular maintenance and tune-ups, changing the oil, and checking tire inflation can improve gas mileage, extend your car's life, and increase its resale value. It can also reduce traffic congestion due to preventable breakdowns and it could reduce your car's emissions by more than half.
Get fuel when it's cool. Refueling during cooler periods of the day or in the evening can prevent gas fumes from heating up and creating ozone. And that can help reduce ozone alert days.
Don't top off the tank. It releases gas fumes into the air, which cancels the benefits of the pump's anti-pollution devices. So, stopping short of a full tank keeps gas off of you, is safer, and reduces pollution.
Telecommute. Work at home sometimes. You'll save time and money, and reduce emissions and traffic congestion.
Reduce idling. Follow your companies idle reduction policy. Turn of your car and go into stores, fast food restaurants, etc, instead of spending time idling in the drive-through.
Spread the word. If everyone took just a few of these simple, easy steps, it could make a big difference because it all adds up to clean air.
We are all moving around and we are all breathing the air. However, a clear sky does not mean 100% clean air. We all need to work hard to improve our air regardless of where we live, the work we do, or how we play. I suspect there is a limited supply and it is much easier to keep the air we have clean than have to clean it later. Join us and start a Let's Go Smart habit or practice today.