Let's GO Smart
By

in

Posted

June 30, 2017
Blog # 1
Greetings and welcome to our refreshed —Let's Go Smart— web site and our first LGS blog entry.  It is our intent to bring you features both local, and from around the country that are relevant to the national movement of making our communities more livable, healthier and safer by supporting alternative transportation options.
This new interactive website has been two years in the making, and we wish to thank our early partners who shared this vision and supported our early launch. The City of Springfield and City Utilities-Transit Division helped us to match local and federal funds that have assisted in the development of this site.  This past year our relationship with the Healthy Living Alliances has helped to support a media campaign in which radio PSA's, and the Let's Go Smart Bus have been running through the streets and airwaves to present the LGS logo and message.
We hope this blog will encourage you to explore your transportation options and choices. We will challenge you to consider alternative transportation modes which impact your health, the environment and the economy of our community. Future blog posts will offer hints, suggestions, examples and ideas related to the improvement of all modes of transportation.  We will introduce you to interesting people who have been living the —Let's Go Smart—lifestyle and we will be sharing their stories.  Our goal is to make Springfield and Greene County a clean and healthy community to raise a family and to pursue a career.
Please visit our new website often and explore its many features.  We will continue to develop a more local flavor to the current articles while sharing links and resources for across the country.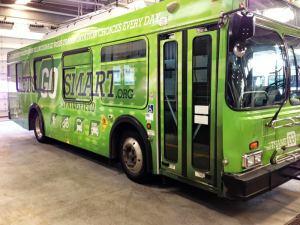 Support from City Utilities and funding form the Healthy Living Alliance and the Center for Disease Control helped to create the Ozark Greenways "Let's Go Smart" bus.